Some States Take Aim at LGBTQ Rights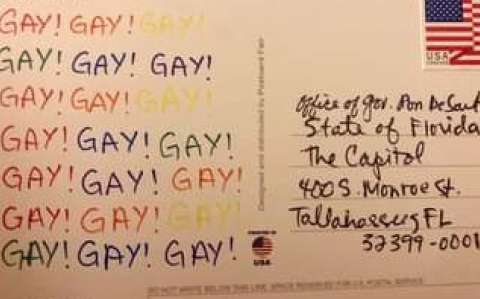 A new wave of K-12 related anti-LGBTQ laws are being put in motion across the country. Of these is the "Parental Rights in Education" bill, which opponents have dubbed the "Don't Say Gay" bill in Florida which bans discussions of sexual orientation or gender identity in primary grades. Florida's governor signed it into law on March 28.
"A school district may not encourage classroom discussion about sexual orientation or gender identity in primary grade levels or in a manner that is not age-appropriate or developmentally appropriate for students," the bill says. An issue many have with the bill is the vagueness with which it describes its policy.
In early grades it is common for students to make projects about their families, as well as talk about their families with teachers and classmates. If a student has a mom and a dad, or two moms, or two dads, is the school district "encouraging classroom discussion about sexual orientation?" if the students discuss their parents? If a transgender student is present in the class, is the teacher allowed to answer questions that their classmates are bound to have or allow the student to answer questions themselves? It's not clear.
While it is clear that the law bans outright education and lessons about sexual orientation and gender identity, it isn't clear on how educators should handle real-life LGBTQ people that may come up in conversation.
In Iowa and Utah, bills were passed in which transgender girls were banned from all K-12 level sports. This bills affect all male-to-female transgender students, regardless of medical intervention, which includes those who received puberty blocking treatment and never went through any form of male development. Despite there being no epidemic or evidence of trans girls "taking over" female sports, especially in school-level play, the bills are effective immediately and all transgender girls will have to compete on the boys' teams or not at all. This bill does not address transgender boys who will still be allowed to compete on the team of their choice.
When the new law banning transgender sports participation landed on Utah governor Spencer Cox's desk, he vetoed it. He pointed out that in the state of Utah, only 4 transgender students were participating in school sports, and only a single transgender girl was playing on a girls team.
Governor Cox cited the 56% suicide attempt rate among trans youth as the reason for his veto, "I want them to live," he said.
On March 25th, the Utah legislature overrode his veto and the law will take effect in Utah on July 1st of this year.
Leave a Comment
About the Contributor
Finn McCool, Social Issues Editor
Finn McCool is a junior at West Po. She has always had a passion for writing and reporting, and how the way news is reported can affect how people take...