West Potomac Students Participate in State-Wide Walkout
Yesterday, students at West Potomac and across the state came together to support their LGBTQ+ classmates in opposition of Gov. Glenn Youngkin's proposed changes to trans-gender policies. At 10 a.m, approximately 1,400 of West Po students flooded the Jeffrey Dietze Stadium, according to Dr. Millard. Student organizers carried signs, handed out stickers, and spoke to those in attendance. 
Dr. Millard introduced the students who organized the event. Each student spoke about the detrimental effects of this proposed policy, speaking firsthand as members or allies of the LGBTQ+ community.
"I cannot be a student if I don't know what name my teacher is going to call me, I cannot be an athlete if I am changing in the wrong locker room," notes a senior student organizer.
A public comment period for the model policies began on Sept. 26 and is running until Oct. 26. Currently, there are over 30,000 comments. Many commenters expressed that they oppose the new regulations. "This legislation is immoral and homophobic," wrote a commenter on the public form identified as David Wilson. "It represents government sanctioned oppression of Virginians. This is disgusting."
Others praised the policies in requiring parental approval for students to change their pronouns or go by a different name. "Parents Voices concerning what their children experience academically, socially, in the REST ROOMS & LOCKER ROOMS and ALL that concerns their children in their schools need to be listened to, acknowledged and respected with whatever those parents choose for their children," wrote a commenter identified as Jacqueline Cunningham.
.
"
"This legislation forces me to put my trans identity first, rather than putting me first. "
— Student Organizer
At the walkout, several speakers who will be affected directly by the policies shared that school has been a place of acceptance when coming from a home that lacks support. If put in place, these policies will influence students both in and out of the classroom. An estimated 11% – 40% of homeless teens in the country are LGBTQ+, according to one of the speakers. The acceptance of these model policies could increase these numbers, they said.
"I have been discriminated against for my gender identity and told that it was wrong, told that I was wrong," a senior speaker said. "These policies are just a new case of this happening." "If this policy happens, I can't imagine what I would go through, what anyone else like me would go through," expressed another of the speakers.
Leave a Comment
About the Contributor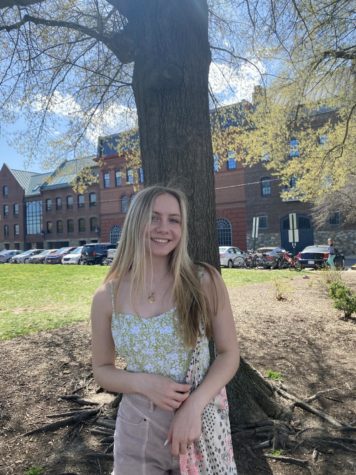 Phoebe Schultz, Editor-In-Chief
Phoebe Schultz, a junior on the dance team at West Po, loves reading and spending time with friends. She finds that music wakes her up better than her...