Seniors French and Nagda Named National Merit Semifinalists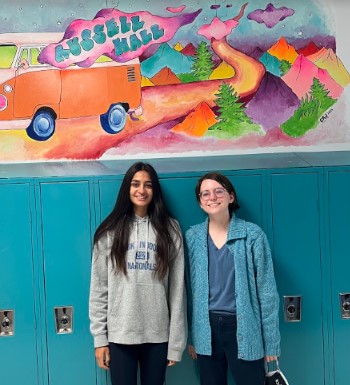 Two seniors, Fionn French and Saira Nagda, qualified as semifinalists for this year's National Merit Scholarship (NMSC), a competitive program that grants scholarships to top performers on the PSAT. Less than 1 percent of high school students receive the honor of being semifinalists.   
These students will apply to the 2023 NMSC finalist round, where they will hope to win the scholarship of $2500. 
The news came unexpectedly to senior Fionn French. "I was pretty surprised as I had kind of forgotten about it," she said. "I didn't know that they didn't put up a semifinalist until senior year, so I had just assumed that I didn't make the [cut]."
Learning about the news did not alter her college plans, but French stated that receiving the scholarship would be a great help to achieve her goal of studying psychology at her dream school. For now, she enjoys playing the cello and ukulele, as well as rock climbing to keep her cool. 
Senior Saira Nagda was excited to receive the news and noted that she was proud to represent West Po among the other 237 FCPS semifinalists. She also stated that she already had her work cut out with college applications and AP classes, so gaining the title of semifinalist didn't give her any extra responsibilities. As for what she does to balance her workload regarding all of her activities and classes, Nagda stated, "I generally make sure I have time for myself, and budget my time efficiently to get what I need to get done, done."
Her advice for juniors and sophomores? "If you are really trying to get a merit semifinalist spot, first, don't stress," said Nagda. "I did not think I had a large chance of qualifying, especially because Virginia's qualifying score is among the highest in the nation. I went into the PSAT ready to give it my best effort with confidence."
Leave a Comment