West Po Reads: Book Review Bonanza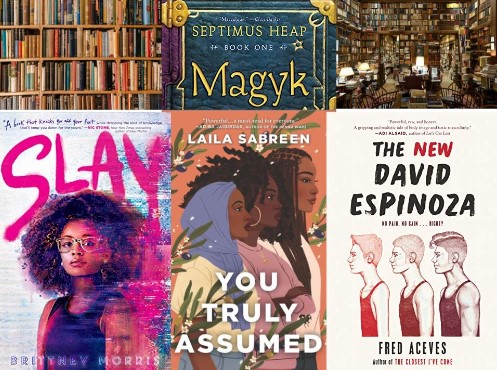 You Truly Assumed
Author: Laila Sabreen
Pages:339
"You Truly Assumed" is a story about three girls that have been impacted by a terrorist attack in D.C. Sabriya is a girl who has her summer all planned out until terrorists attack D.C. Then, she feels very unsafe living in that area. She decides to write her thoughts and she accidentally posts a blog named You Truly Assumed. It soon gets positive feedback from other black Muslim teens. Zakat is another black Muslim girl who is extraordinarily great at art and wants to go to Howard University but her parents won't let her because of the recent attack. A basketball fanatic, Farah is interested in designing apps and she is good at coding.
I could recommend this book to someone who likes to read about events in the real world. It is a really good realistic fiction book, but people who like to use social media and make use of blogs will likely gravitate toward it. Sabreen emphasizes that Muslim women have a voice and should be heard around the world by using technology to their advantage.
The New David Espinoza
Author: Fred Aceves
Pages: 323
After being bullied and humiliated all over the internet, David Espinoza finally decides that he needs to get bigger and stronger. His whole life he's been a stick and wants to become like many movie actors with big muscles and abs. When he is in the gym locker room, he gets slapped by bully Ricky and his life gets ruined by a video being uploaded to all social media platforms. As he contemplates being a skinny guy, he joins his local gym "Iron Life" after seeing the number of jacked guys he devotes his time to bodybuilding. He makes a new friend named Alpha but things turn upside down when he learns about steroids. Espinoza finds out that he won't get results fast enough before school starts and tries them. He starts to develop body dysmorphia and anger issues after doses. Relationships are broken from Espinoza taking things too far with his bodybuilding.
Aceves grasps the teen setting for the book. Although it has many explicit words, young adults and teenagers will get a lot out of it and they can learn about the dangers of steroids.
Septimus Heap: Magyk
Author: Angie Sage
Pages: 564
Septimus Heap: Magyk is a great "magykal" book with tons of spells thrown at you in all chapters. It tells the story of a child named Septimus Heap who was kidnapped at birth and pronounced dead. Another child is found by the father of Septimus Heap, Silas Heap. Jenna, Boy 412, a young boy part of the young army) goes on a quest to stop DomDaniel from engulfing the world with Darke Magyk. The world-building is great because it takes place in the Marram Marshes which is a marsh that has many boggarts. I love the usage of the Magyk element. Every time the word or something similar is mentioned about Magyk, the words are bolded. This book succeeds with the amount of action and magical spells and elements used to fight evil. There is a major plot twist, which I love in books. 
Sage succeeds with the number of different words used throughout the book and is a great fantasy trilogy. The books take you to another whole fantasy world. It fills you with all these magical moments in the story that even rival the Harry Potter books at one point. I would recommend this book to someone who enjoys the Fantasy genre.
Slay
Author: Brittney Moores
Pages:318
Protagonist Kiera Johnson deals with being one of the only Black kids at Jefferson Academy. SLAY is a secret multiplayer online role-playing card game that she made. But the game is soon on the news for a teen murdered in Kansas City over an argument in the SLAY world and SLAY is labeled a racist, violent hub for thugs and criminals. No one knows Kiera is the game developer, not even her parents or boyfriend. She devotes her time to saving the digital world of SLAY. One thing that is unique about this book is the number of chat logs and emojis used. It gives off that teen texting experience. My favorite quote from the quote would be "As we duel, as we chat, there's an understanding that "Your black is not my black" and "Your weird is not my weird" and "Your beautiful is not my beautiful," and that's okay.''
Slay talks about racism subtly and manages to still be a scholar at school. However, this book also has explicit language. This book is aimed at teenage girls and young adults that like video games.
Leave a Comment
About the Contributor
Brian Cordova Centeno, Business Manager
Brian Cordova Centeno, a junior at West Po, is taking journalism because he believes that writing is one of the most amazing ways to express yourself and...