Some Class of '23 to Cast Their First Ballot in the Midterms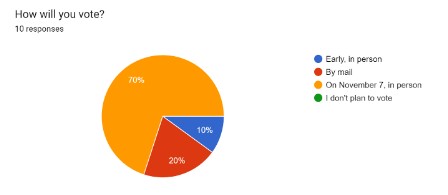 With this year's midterm elections coming up on November 8, many West Po seniors will be eligible to vote for the first time. In our annual senior voting survey which we sent to different senior government classes, 11 out of the 106 seniors polled (10.4%) will be 18 by November 8. 10 out of those 11 said that they would register to vote. Finally, of the 10 which were interested in registering, 7 said they would vote in person, 2 preferred voting by mail, and 1 person said they would vote early in person. 
Many had different motivations for wanting to register to vote. A survey respondent stated, "My class has shown me the importance of using my voice and right as a US citizen to vote. Looking at my assigned race for class has intrigued me to look into politics and I'd like to do the same for VA polls when I can register to vote." 
"I believe that by voting you can make anything possible if there is enough traction for a candidate that aligns with my beliefs. If people don't vote then there is more possibility for laws and acts to be in place that will misalign with your beliefs and potentially harm your rights," said another respondent. 
Others cited waiting to carry out their civic duty, wanting to support democracy, and finally how easy it is to vote as reasons why they were interested in registering. 
These upcoming elections are midterm elections, meaning that instead of a new president, new congressional candidates will be elected. In fact, all 453 seats in the House of Representatives and 35 of the 100 senate seats will be contested. Usually in midterm elections, the party opposite from the president gains control of congress. Here in Virginia's 8th District, the main candidates for a House seat are incumbent Democrat Don Beyer, Republican Karina Lipsman, and Independent Teddy Fikre.
Leave a Comment