Students Risk Being Fined For Parking Without A Pass
Students risk parking tickets if they park in any of the parking lots without a parking pass, including the junior and senior lot, as well as the new lot located behind the Academy and science buildings– where the learning cottages stood for two years. According to Mr. Walls, Safety and Security Specialist, the new lot is for kiss-n-ride and faculty & staff parking only. 
Students who purchased their parking passes over the summer should all have a pass assigned to the senior or junior lot by Springbank. While there is some staff parking in the junior lot, many faculty are now parking in the new lot behind Gunston. There have been continuing issues of students parking in the senior, junior, and new parking lot without a parking pass.
"The new kiss-n-ride is just for staff, not for students," Mr. Walls said. "The senior lot and the junior lot are for you guys [students]."
Ticketing has already started in the senior and junior lots and will continue for cars parked without a parking pass, according to Mr. Walls. He reports that there have already been people "sneaking around" parking in spots without a parking pass.
Senior Julius Nhim reports that he got ticketed on Nov. 17 because he parked in the senior lot without a pass. "I went to change my shoes for track and I saw a bright orange paper and it said I was fined $40…if I didn't report back in 3 days they would tow my car," Nhim said.
"I already gave 7 parking tickets today in the senior lot for people who didn't display their parking permits," Mr. Walls said on Wednesday, Dec. 14.
No tickets were seen on windshields in the new lot. Mr. Harrigan, security guard, said that ticketing in the new lot will begin on Jan 3 after Winter Break. 
"Students are not allowed to park in the kiss-n-ride parking lot… it is meant for staff, there are designated parking for students in the senior and junior lot… if you are not a senior or a junior you are not allowed to park on campus," Mr. Harrigan said.
If tickets are issued to students they will be $40 and checks may be payable to West Potomac HS. Tickets must be paid within 72 hours otherwise cars will be booted and/or towed at the owner's expense.
Leave a Comment
About the Contributor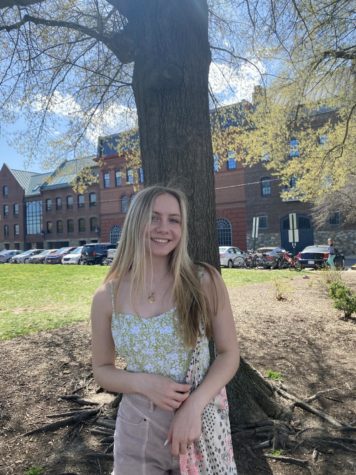 Phoebe Schultz, Editor-In-Chief
Phoebe Schultz, a junior on the dance team at West Po, loves reading and spending time with friends. She finds that music wakes her up better than her...