Girls Basketball Head Coach Brian Colligan Tallies 100th Career Win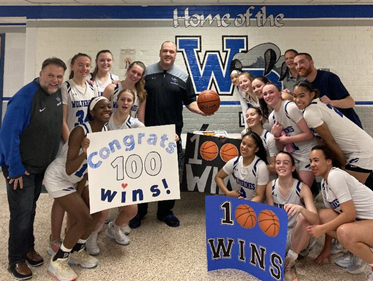 With a 42-32 home victory over the West Springfield Spartans on January 12th, girls basketball head coach Brian Colligan broke triple digits in his Wolverine career win column.
"The funny thing is I didn't know I hit [the milestone] until the cake after the game," said Colligan, "It's really all about the players I've had the pleasure to coach before, and it's a blessing to have been here long enough to accumulate 100 wins."
Colligan, who's been with the team since 2015, started as an assistant before being promoted to head coach
a year later. Colligan took helm of the team in 2016, and his winning culture followed swiftly. In his first year as
head coach, the team won seven more games than the previous year, going 18-9 and reaching the district championship game.
"When I came in as head coach, I wanted to change the overall culture, to build a program again. I was very fortunate to have such talented players," Colligan said.
Going from 11-14 to 18-9 in one year, it was clear something special was brewing on Quander Road–and that success continued to mount in the following seasons. The Wolverines stacked on winning seasons, but one major goal laid unachieved: a district championship. For three straight seasons, the Alexandria City Titans ended team's district playoff runs, and in 2020 the familiar foe met the Wolverines again in the district championship game–in this year, however, there was one thing different: we had them on our home floor. In front of the Wolverine faithful, then freshman guard
Mary Prater poured on 16 points en route to a 61-55 win. West Potomac had finally cracked the glass ceiling; the Wolverines were district champions for the first time since 1992.
"It had been so long since [West Potomac Girls Basketball] had a winning title, and it showed that our hard work and commitment paid off," said forward Julia Hopper: senior varsity forward who was also a varsity freshman alongside Prater at the time of the win.
A year later, in 2021, the Wolverines were poised to tear. Not only were they reigning district champions, they were also returning every starter from the year prior. The 2020-21 brought forth its own unique challenges, taking place in the thick of the coronavirus pandemic even while school was online. No fans–just coaches, refs, and a socially distanced bench. The Wolverine girls along with the entire league struggled with COVID-19 related pauses and cancellations, and come February, the team concluded their regular season having played just ten games. The
girls dominated their small sample size going 9-1, which included a history-making 93-7 slaughter of Annandale. In the playoffs, Colligan's Wolverines cruised to the regional championship game–their deepest playoff run in program history.
The Wolverines were met by West Springfield High School in the regional final, and behind an 18 point performance from senior Danea Mackey, the Wolverines punched their ticket to the state semifinals with a 60-44 win over the Spartans. It was the team's first ever regional championship banner.
"It was a memorable run, our first regional title," head coach Colligan said. 'I still try to keep tabs on how some of my former players from that team are doing."
One of those former players, 2021 Occoquan Region Player of the Year
Danea Mackey, is currently playing her college ball at Daytona State College in Florida.
The 2020-21 season will be cemented as an all-time great for the Lady Wolverines in the years to come–but as we arrive at present day, all-region senior Mary Prater along with her all-district senior teammate Julia Hopper aspire to lead their team to matching postseason success in their final year. After a shaky 1-3 start to the season, the girls have since won 12 of 15, standing with a current record of 13-6 (which includes a 10-1 mark within regional play) on the season at the time of this article's writing. This turnaround has been much due to Julia Hopper's return from injury, which was highlighted by local sports outlet @novahoopsCom last week on twitter: "[West Potomac Girls Basketball] missed [Julia Hopper's] presence early in the year. Wolverines will be tough to beat at full strength." Colligan's 100 win milestone adds another staple to his collection of accolades as West Potomac's greatest girls basketball coach in history. The girls, ranked 17th in the Nova19 at the time of this article's writing, begin postseason play on Tuesday, February 14th.
Leave a Comment
About the Contributor
Peter Rainey
Peter Rainey is a senior student in his third year of West Potomac Journalism. Along with writing, his other passions include hiking and graphic design....