Girls Excelling in West Po's Co-ed Sports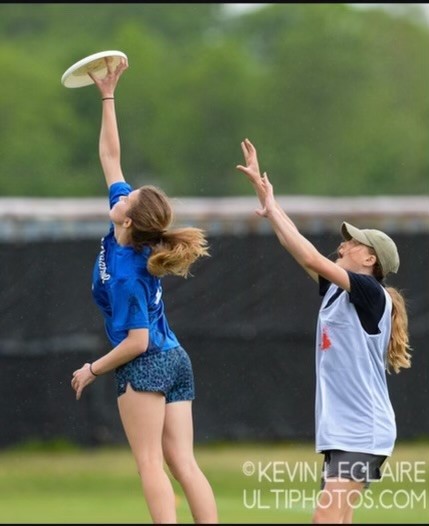 While the VHSL (Virginia High School League) does not offer Co-Ed sports
in its participating schools, girls and boys can compete on the same playing field
through West Potomac's club sports which do not affiliate with the VHSL–Ice
Hockey and Ultimate Frisbee.
For years these teams, despite no rule forbidding female participation, have fielded exclusively male athletes; in recent years, however–specifically post-quarantine, female athletes have stepped up and broken through the unspoken rules forbidding their participation. Lorelei Dean, a senior captain with Alexandria Ultimate (a joint Ultimate Frisbee team combining Alexandria City and West Potomac High Schools), joined the roster in 2021 with her good friend, then-sophomore Maya Parfitt. Now, approaching her third year with the team, Dean knows her passion–Ultimate.
Now the only female member of the team from West Potomac, Dean carries the leadership role of senior captain, a title awarded to her through the votes (and respect) of her teammates. "We have a very welcoming and open environment as a team," Dean said, "Don't be afraid, we want everyone."
Interested athletes can directly message Lorelei on Instagram at @ferynfox for information about the upcoming spring season.
On the ice, seniors Sophia Spanos and Alexa Callegaro have competed with West Potomac's Varsity Ice Hockey team this season, the first ever female athletes with the team. Spanos, a homeschooled student out of the Fort Hunt area, scored her first goal with the team last December versus Bishop Ireton.
Callegaro, who plays right wing, recalls her experience first getting accustomed to the co-ed competition this fall, her first time sharing the ice with boys. "When I first started playing it felt a lot different. In one of my first games I got checked [hit against the glass] pretty hard, and my teammates made it a pretty big scene with me being a girl. It does affect my confidence when I'm always known as 'the girl' on the team. "The team has won or tied three of their last four and ranks third in the WCHSL (Washington Capitals High School League) at the time of this article's writing, with the playoffs approaching in early February. Callegaro, while still working towards finding her own place with the team, encourages other female athletes to conquer their fears of playing alongside boys–it goes without saying that there will be roles to fill once her and Spanos graduate in the summer.
"It's not as scary as you expect, and trust me, if you think
you'd be the worst on the team, you won't be."
Leave a Comment
About the Writer
Peter Rainey
Peter Rainey is a senior student in his third year of West Potomac Journalism. Along with writing, his other passions include hiking and graphic design....