Shari Terry Crowned West Po's Teacher of the Year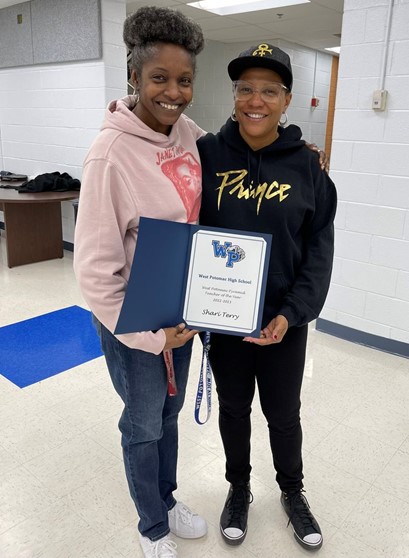 This year's West Potomac High School Teacher of the Year is Shari Terry. Terry, in her 27th year as a teacher and 17th year at West Potomac, is a beloved physics teacher and club organizer.
Principal Dr. Tanganyika Millard presented Ms. Terry with the award in late January. Fellow teacher Lou Ann Aepelbacher took to Twitter to congratulate her colleague, praising Terry as "truly an example of educator excellence."
"My favorite part of the job is when some of my former students come back, it's rewarding to know the difference I've made in the lives of young adults. I'm a physics teacher number one but even more I look to help produce good citizens in the world." Said Terry.
Education became Terry's career path after a short stint as a substitute teacher in Rochester, New York opened her mind to the idea: "I thought it was neat, guiding students with information, so ever since [teaching in Rochester] I've been in the classroom."
Terry's unique claim to fame at West Potomac has been her creatively decorated classrooms, including her coined photo wall, "I started [the photo wall] I believe around eight years ago, it started with a few prom pictures and I just began adding on, the goal is to just have positivity shine through in all of my photos."
Along with being a physics teacher, Terry is also the sponsor of West Potomac's Black Student Union, a club that looks to champion success for black students. "The club was established in 2013 by a few students, at first as a Black History Month program. It grew from there to the union we have today. Primarily its purpose at West Potomac is to try to promote information about African-Americans and everything they're doing. Everyone is welcome, you can look at old photos from the club on my wall, it's a melting pot, diverse group of people." Said Terry. Students interested in joining may visit Ms. Terry in room 705.
Leave a Comment
About the Contributor
Peter Rainey
Peter Rainey is a senior student in his third year of West Potomac Journalism. Along with writing, his other passions include hiking and graphic design....