Students Work Around Under One Roof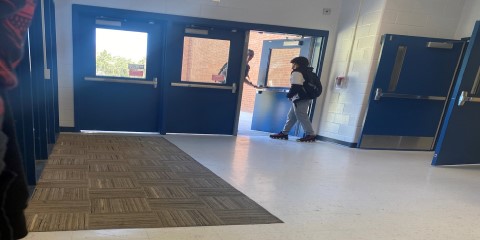 For the first time in West Po history, students have not been allowed to go outside between classes when the Under One Roof Policy went into effect just before winter break this school year. The connector was built to ensure that students no longer had to go outside in order to make our school a safer place, according to Dr. Millard.
Students are supposed to only use door 1, and not any other door except at the beginning and the end of the day. They also are required to check in at the attendance office if they come in from the outside at any other time. "I think lunch was better outside and walking to class outside was better," junior Estefania Flores-Campos said.
However, many of the doors are unlocked during the day. During 5th period, over the course of 6 different days in March, and on April 17, at least one door was unlocked at doors number 16 and 17, located in the connector during 5th period. Students were seen using the doors during that time without needing anyone to let them in.
The security staff checks the doors each day, according to the security office. They were surprised to hear that the doors are sometimes open during the day because they know about the safety that the Under One Roof policy provides. They think it is better to be inside rather than kids being let outside especially considering there have been safety issues in the area in the past. Just this year, there have been 6 non-student trespassers on the property, they said.
Some students appreciate being indoors all day, "It's nice to be inside for a little bit but it gets cramped up in the hallway," freshman Ibrahim Taha said.
The main concern is that kids always open doors for other students and that could pose a threat to the school, according to the security office. "In Springbank, I saw a group of maybe five kids with food from Tropical Smoothie Cafe and they walked through the open doors and a teacher fully stopped them, yelled at them for a little and then made them go all the way back around to the front of the door," junior Jaylan Post said.
Another problem students have with the Under One Roof policy is that many students struggle to get to class on time, 2nd period to 4th period seems an especially busy time in the connector from Gunston to Quander. When walking to classes from Gunston to Quander, students have to rush to get to class on time. The connector is crammed with everyone else trying to get to their classes. "I miss the personal space we had seeing as how cramped it is inside with everybody," junior Ernesto Aleman said.
Leave a Comment
About the Contributor
Brian Cordova Centeno, Business Manager
Brian Cordova Centeno, a junior at West Po, is taking journalism because he believes that writing is one of the most amazing ways to express yourself and...