High Expectations for West Potomac Baseball
2014 varsity team has promise to exceed all previous records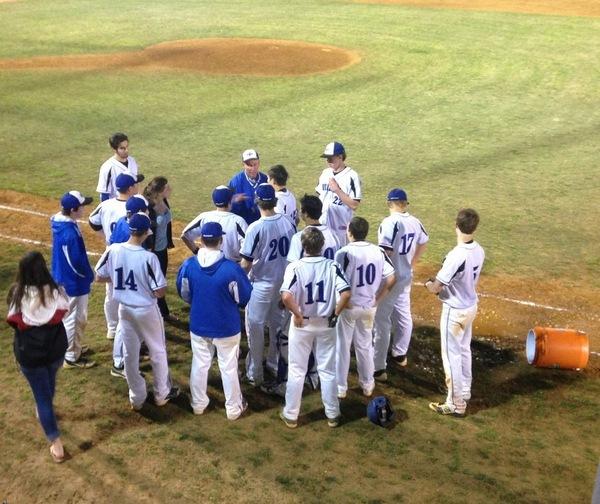 The consensus among this year's Wolverine Baseball team is that this season's squad will be the most promising one that the school has trotted out in years. Headlined by four college commits Michael Barnes (US Merchant Marine Academy), Billy Lescher (University of Pennsylvania), A.J. Melvin (Washington & Jefferson College), and David Wagner (New York University), the team looks to exercise its playoff demons and win a regional playoff game, a feat not accomplished by West Potomac in decades.
Last year's team came very close. After hanging with a powerful Centreville team for much of the first round regional playoff game, things fell apart en route to a 6-1 defeat, ending their season. The team's lineup also suffered with the graduation of seniors Paul McClure and Jayme Murray. McClure, the program's all-time single season strikeout king, and Murray, the longtime fixture at first base, are now playing college ball. Despite these two key losses, the team remains very optimistic about their chances this season.
Their high hopes are not unfounded. Even with the departure of McClure, the pitching situation looks to be very sound. The bulk of innings will likely be split between Lescher and Barnes. Lescher made noise in the area last season, when he pitched a perfect game against Mount Vernon in his first trip to the varsity mound. Wagner noted his team's edge is focused, but "very relaxed."
"I see us being the best team in the district and traveling far in the regional tournament," said Melvin, "with serious contention for a state berth." The top challengers to that goal will likely be Lake Braddock, who finished with a 14-2 record, and South County, 2013 District Champions. The Wolverines were unable to take down the Bruins in their two meetings last season, losing by tallies of 8-2 and 4-1, mustering no hits in the latter match-up. West Potomac split the series with South County, winning one in extra innings and losing by one in the other.
Last season, the team played well enough to earn a top four-seed in the district, decent enough to enter regional play. But if they are to realize their goal of winning the district and earning a first-round regional playoff bye, the Wolverines will need to finish strong. In 2013, West Potomac started hot, and boasted a 7-4 mark at the midway point of the season, but went on to win only five of their final eleven games, dropping three of their last four.
The lone win in that stretch was their extra inning triumph over South County on Senior Night, when then-sophomore Rocky Iboleon blasted a shot to left field to score Andrew Smith. Prior to that game-winning swing of the bat from an unlikely hero, the Wolverines had been held without a hit through all 15 innings the team had played that week.
In order to make the postseason noise they hope to, West Potomac will need to play their best baseball late. They will face both Lake Braddock and South County in their final three games. A strong finish would not only be a statement to put the region on notice, but also put them in prime position to finally get that elusive regional playoff win.