The Kin: "A Rags-to-Riches" Story for One New York Band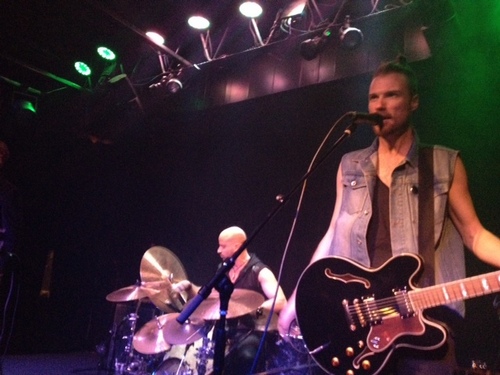 There are many tried and true ways through which up-and-coming bands seek to promote themselves. They record an album, play small local gigs, create a web presence through social media, and hand out CDs like crazy hoping to catch peoples' attention. But how many bands stage robberies on unsuspecting stores and restaurants in order to spread the word?
In 2011 The Kin arrived in New York city and began holding "musical robberies," or impromptu performances, in bars, delis, on ferries, and anywhere else they wanted to surprise patrons. Australian brothers Isaac and Thorald Koren, accompanied by former street performer Shakerleg, captured patrons' attention with their self-proclaimed "gritty punk-rock" music and unconventional performances.
Dressed in black and often covering their faces with dark bandannas, they either drove up or ran into these establishments. They would then yell "This is a musical robbery!" and energetically burst into one of their songs. "We're looking to surprise people and give them a musical experience," Isaac says. "Or maybe we're just adrenaline junkies, because it feels like a drug the body is releasing when we make that connection with other human beings based on our music. Even if it's just for a split second, it's a rush for everyone involved."
Isaac and Thorald came to New York as members of separate groups then decided to join together and create their own band. They produced one album together, with Thorold on vocals, keyboard and guitar and Isaac on vocals, keyboard, and didgeridoo (a native Australian instrument). The band didn't truly form their band's identity until Shakerleg joined the group.
Shakerleg, who's given name is Mark Nicosia, is a street performer who spent ten years playing drums in his own unique style on New York's subway platforms, sans drumsticks and often with makeshift drums. "I hate drumsticks," he explained in an interview for Modern Drummer Magazine. "I love the way they sound, but not when I operate them, or rather, the way I am unable to operate them." He was making over $300 per day and even recorded an album on a subway platform before the Koren brothers approached him and asked him to become a part of the Kin. His unconventional drumming, on any available surface, added a unique sound to subsequent musical robberies.
These robberies have worked for The Kin, who were picked up by famous producer Tony Visconti and are currently on tour throughout the U.S. with P!nk, performing their new E.P. "Get on It" which includes songs "Get on It," "Boy You're a Pretty Girl," "On the Rise," "Mary," and "Everything's Changing," currently available on iTunes.