Reflections on Paul Russell's 45 Years of Teaching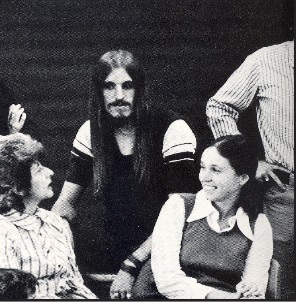 Editor's Note: This article is a reprint from The Wire's May 2013 issue, reporting and reflecting on Mr. Russell's retirement after 45 years of teaching.
When classroom trailers first came to West Potomac, English teacher Paul Russell went to assistant principal Dale Eaton asking for one.
"At first, he and his students painted the thing with polka dots," recalled Eaton. "Not only that, but later on he literally turned it into an apartment with this huge refrigerator and a grill right outside."
Memorable glimpses like this depict the illustrious 45-year career Russell has had with his students and colleagues at this school. He retires at the end of this school year leaving behind a legacy.
After graduating from Fordham University in 1968, Russell was looking to be a biology teacher However, he landed a job as an English teacher instead at Groveton High School, the previous West Potomac. He was soon on the journey of influencing the lives of thousands of his students to come.
"I just wanted to be some type of teacher, so I didn't mind becoming an English teacher instead," said Russell.
Alum Scott Surovell '89, current member of the Virginia House of Delegates representing the 44th District, and Russell's former student, has shared many fond memories in Russell's class.
"He was probably the coolest teacher I had at West Potomac," Surovell claimed.
Once, Russell required Surovell's class to teach a latin word. Surovell was assigned the Latin root "phil." For his presentation, Surovell had the entire class sing "All We Need Is Love" by The Beatles and dubbed the word 'phil' every time The Beatles sang 'love.' Surovell recalled that the classroom lights were turned off and a device projected clovers, diamonds, hearts, and stars on the walls.
"He was emphatic that our presentation had to be memorable," recalled Surovell. "Until I graduated, the members of that class called me 'Phil' Surovell and my classmates still remember it today 21 years later."
"By the way, I got a B+," said Surovell.
Russell is known throughout West Potomac for his laidback teaching style and a unique sense of fashion. It is not uncanny to see him walking around the halls with jogging pants, a t-shirt, and flip-flops on.
"I enjoy his laid-back style very much. I don't think there is a 'casual' Friday in his book; it's casual every day," expressed junior Kelly Slatery jokingly.
"You wouldn't recognize him back then because he actually wore suits with ties. He wasn't always a casual dresser as students see him today," said Eaton, who has been Russell's student, colleague, and evaluator.
In addition to writing and fishing, Russell loves to travel. He plans to tour South America and Africa during his retirement. Russell also loves to play music and is looking forward to recording songs in his personal recording studio at home.
"Mr. Russell has clearly touched thousands of children over the last 45 years and taught them how to write. While he projects a laidback demeanor, he is also clearly someone who has a passion helping children find and express their inner muse," said Surovell.
Junior Destiny Webb has enjoyed Russell's charismatic personality throughout the year. "His constructive feedback has helped me grow as a writer. I'm really gonna miss him."
Surovell added, "His presence at West Potomac High School will truly be missed."