YA Author Elle Cosimano Visits WestPo, Talks About the Writing Process
On a book tour for her novel "Nearly Gone," Cosimano stops at WPHS, an inspiration for the book's setting.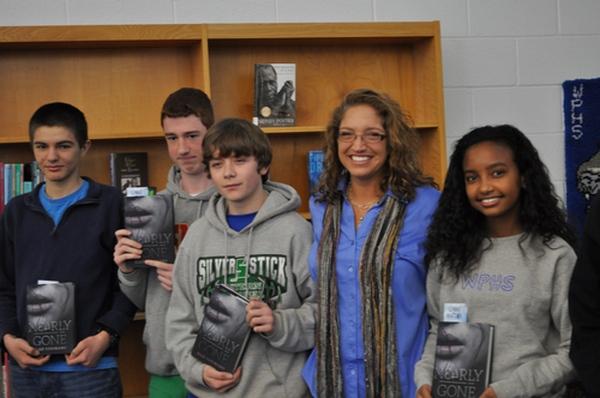 Writing a book can be a fun, yet difficult process, even with several years of experience. For Elle Cosimano, the author of the new YA novel "Nearly Gone," writing was a altogether profound adventure. On a book tour for her novel, she recently visited West Potomac, where she talked about, among other things, how much of an adventure writing truly had become for her.
Originally working as a real estate agent, with a college major that wasn't anything closely related to writing, Cosimano decided to change direction in her life by acting upon her long-dormant passion for writing. Starting to write nearly 15 years after college, Cosimano said "It was hard at first to go back to it, since I'd been away from writing for so long." She talked about how writing a mystery novel was also different for her because she normally wasn't inclined to read mystery, so she needed to do a lot of research in order for "Nearly Gone" to work as a mystery set in a realistic, modern setting. "Research is very important in the process of writing a novel," said Cosimano, and she found herself engaging in a great deal more than she expected.
Because she wanted her main character to be different from those in other YA novels, but still built upon her own feelings and memories from her teenage years, she asked other friends and relatives about their own experiences as a teenager in high school.
During a book tour visit she made at West Potomac on March 28, Cosimano also detailed the steps she took to write her novel, particularly the research aspects. She explained, "there are four types of research: physical, emotional, technical, and business." For the physical, she said that aspiring writers must always ask themselves about what places they can visit to gain first-hand knowledge about them? For "Nearly Gone," Cosimano visited police stations, attended criminal justice classes, and also observed crime scenes and learned about how data was collected from them.
Writing with emotion is a little bit different though, Cosimano noted. "For starters," she said, "it's very helpful if you write what you know." Sometimes to make characters seem believable, authors have to look deep inside their personal emotions and put themselves in their characters' shoes, and how they would react in various situations.
She also advised students who enjoyed writing to continue doing what they were doing and pursue their dreams.
"Nearly Gone" is about Nearly Boswell, who attends West River High School in the Northern Virginia area — in fact, the setting and place of the novel is modeled very much upon West Potomac and the surrounding area. Nearly is a genius but somewhat of an anti-social loner with few friends. But when a series of murders at the school begins, of students who are connected to her in some way,  Nearly must put  the clues of the mystery together with time running out as the murderer becomes ever closer to making her the last victim.
About the character's unique name, Cosimano said "At first I was looking through baby name books to choose a normal name. but then I thought about how the main character is always in-between, or she's nearly this or that. so I decided to name her Nearly because it suited her, and was unique." As to how good a mystery "Nearly Gone" is, she said that "so far no one has predicted the ending before reading the entire book."
With so many mysteries following predictable patterns, Cosimano's debut novel may prove to be as unique as the name of its main character. You can find our review of the novel here, and you can find the novel itself at WestPo's library, or on the shelves of area bookstores.