The Independent Republic of Springbank
A world unto itself, the Springbank Arts Center gives creative students a place to thrive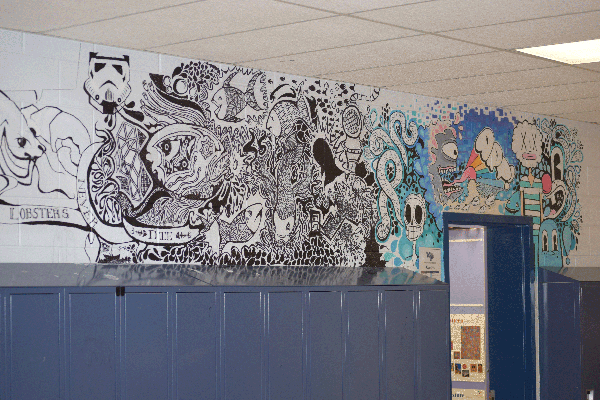 [Editor's note: the article has been revised to clarify, amplify, and add to quotes from the interviews upon which it is based.]
Physically and psychologically separate from the rest of the school, the Springbank Arts Building has long stood as an important part of West Potomac High School's collective student consciousness. Unlike most places on campus, Springbank is dedicated to the arts and all forms of creativity in general. This mentality of creativity becomes apparent when viewing the painted murals adorning the walls, or the colorful designs above classroom doors indicating which arts related subject is taught there.
Whether students are taking photography, studio art, computer graphics, music, theatre, or any other classes taught there, it is the creative spirit of the students and teachers that help make Springbank what it is today: a popular Arts Center that lives up to its literal name, with a culture all its own.
One reason for Springbank's appeal can be traced to its diverse selection of courses, which cover a large range of subjects within the arts that puts it in an altogether different category from the Quander and the Gunston buildings.
"[Over here], students don't have the same academic pressures they face in Math, English, or anything else." said Studio Art teacher Mr. Adam Sanchez. "They have an environment where they can think freely and create. We can focus solely on art."
"While they don't face the same kinds of pressure," Computer graphics teacher Amy Stoll added, "core class knowledge are still a major part of what we do here. The arts amplify the meaning and put into direct application the core subjects such as Math, Science, English, History, etc. Students don't even realize they are using math and engineering skills when they are designing a sculpture, composing a photograph or painting, or doing a technical drawing."
Elaborating further on Springbank culture, Sanchez also reiterated the closeness of the building and its various artistic departments.
"Let's say a kid is taking a band class, or a kid is taking an orchestra class. If we have to do something with them, they're easily accessible," said Sanchez.
Band student Zachary Carter said "It gives students the opportunity to be more creative, because it gives them the chance to do things like orchestra, band, theater, and art."
"There are more classes that have a larger focus on having fun," Carter elaborated.
Self-expression is another pillar of Springbank, a characteristic that allows students to show who they are in whatever way they want to show it.
"It's kind of a place where people can relax and express who they are," Guitar II student Daniel Diaz said about the atmosphere of Springbank.
Although Springbank has existed for a long time, a relatively new addition has arrived in the form of the Annual Arts Extravaganza. The first one took place last February, and it was generally considered a smashing success. With the second one scheduled for February 2015, the Arts Extravaganza looks like it's here to stay.
"I think it's awesome," said Sanchez. "I think that in the same way that the football team has football games and the basketball team has basketball games, I think that it [the Arts Extravaganza] solidifies the idea that art is extremely important here at this school."
However, Springbank is not just separated from the school in a psychological sense. Unlike the Quander and Gunston buildings, which have a connector physically binding them together, Springbank is completely separate from the other buildings on campus.
Sanchez stated the importance of this separation, saying that "One of the benefits that we have is that it [Springbank] is completely separate from the other buildings," and that this separation allows people to "fully engage in the various types of art forms."
Sanchez also noted that "Ever sense they named it the Springbank Arts building, it sort of took on a persona, or a responsibility even, that it would be the main focal point of the fine arts here at West Potomac High School."