Theatre Review: Beyond the Page's "School of Rock"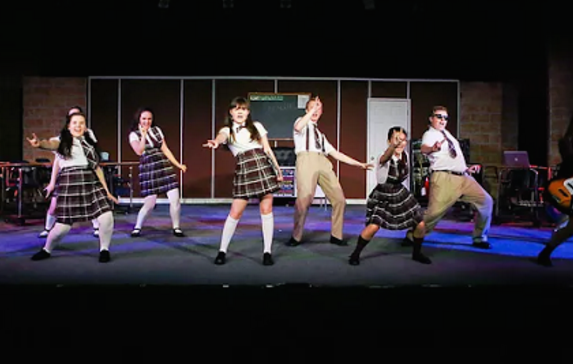 It was loud and bright at the 7 p.m. showing of "School of Rock" from Beyond the Page. There was confetti. The play was totally understandable even without the film's context, and worked well as a stand-alone piece. Tony Lemus and Adrianna DeLorenzo, the main leads of the play, were each fantastic both in capturing their characters and in singing roles. All of the music of the show was great, from the main cast's musical knowledge and singing skills to the ensemble's perfect-pitch choruses and the awesome pit musicians keeping every scene electric and alive.
 As far as technology goes, the show looked really cool. The lights were on point throughout, and the sound mixing for the actors was only occasionally subpar (like during Top of Mount Rock or other times many people sang at once), and  it was downright amazing on many of the songs. The theater was fully packed, and everyone gave rounds and rounds of applause for each piece of music.
DeLorenzo's "Where did the Rock Go?" was a highlight of the evening, which was a great song not just because her solo was superb, but also because the lighting, pacing, and flow of the scene felt like they came together really well. Same with the catchy "Stick it to the Man", another show-stopper.
 The second act had more songs and technical accomplishments than the first, including some spectacular lights and visuals during the final songs. There were a lot of well-acted and likeable characters and interesting music throughout the show, so overall it was a really good play that despite some few flaws came out very strong.
Leave a Comment