Wolverine Warrior: Jordan Alexander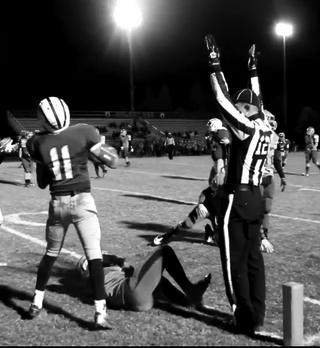 In the summer leading into the 2013 season, few expected sophomore Jordan Alexander to play a prominent role on the varsity football team — especially Alexander himself. During the team's summer workouts, Alexander showcased strong footwork and athletic ability. Combined with his ability to track a football and utilize his elite field vision, the young receiver earned the role of starting slot receiver. He wasn't satisfied with just being a varsity starter. Alexander took advantage of his playing time by leading all West Potomac receivers.
After being held without a catch in the season opener vs Centreville, a game in which West Potomac played three different quarterbacks due to injury, the sophomore exploded for 74 yards on 6 catches, and quickly became the favorite target of freshly crowned quarterback Demornay Pierson-El. Despite boasting a relatively short stature, Alexander built a reputation as a physical force, delivering the hits of a linebacker on any defender unfortunate enough to get in his way.
Alexander finished the season as a bright spot on the team, leading the Wolverines in receptions (24),receiving  yards (279), and receiving touchdowns (2). He also managed to add 327 yards and 2 touchdowns on the ground while splitting time in the backfield with senior Darien Pickett.
"Yes I am one of the smallest people on the field, but I have heart," said the second team All-Conference receiver. "A lot of people will say 'yeah he's small, yeah he's small'. I don't think about that, I just think like hitting them harder and going at it." Along with fellow underclassmen contributors Carlston Burch and Marquis Saldona, Alexander is the face of a promising young receiving corps who should generate a strong Wolverine passing attack in the years to come.
On the future of the program, Alexander noted "This season, it was decent, but then again our team was young, so we didn't have that much experience. We just need to stick together, challenge each other, and try to make our way up to like playoffs." Alexander's goals for his upcoming junior season are making first team All-Patriot Conference en route to a conference championship and a state championship berth.
Leave a Comment