West Po Reads: Book Reviews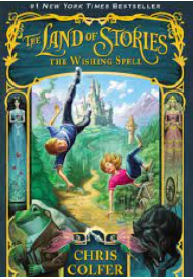 The Land of Stories:
The Wishing Spell
Author: Chris Colfer
Pages: 438
The Land of Stories: The Wishing Spell tells the story of two siblings, Alex and Connor, as they go on a fairytale adventure. It begins after they fall into a book of fairy tales gifted to them by their grandmother (who is not what she seems) and find themselves in the Land of Stories. However, they realize that they have a problem… they don't know how to get home.
This story is one for all ages, it immerses you into a land of magic and reminds you of your own childhood memories, making you feel warm inside.
Review by: Hannah Mei Steury
Crazy Rich Asians
Author: Kevin Kwan
Pages: 461
At it's core, Crazy Rich Asians is the love story of Rachel Chu and Nick Young. But it isn't a normal love story. When Rachel agrees to go to Singapore with Nick, she meets his family, and finds out that the Youngs are not a normal family like hers. They are rich. Crazy rich.
This book describes the life of the rich and powerful in Singapore and depicts Rachel's sometimes hilarious struggle to fit in. Throughout the book there are funny jokes and moments that make you laugh out loud as well as drama for days!
Review by: Sophia Crews West
The Song of Achilles
Author: Madeline Miller
Pages: 416
Madeline Miller wrote a beautiful but tragic story following Greek mythology characters, Achilles and Patroclus. Patroclus, a weak prince spited by his father, meets Achilles when he is banished from his kingdom due to a horrible accident. A bond between the two boys grows and they leave Phthia together to be trained by the centaur Chiron.
While Achilles is a talented fighter and warrior, Patroclus takes up medical studies. Soon after they return from their training they are both called to war as Helen of Sparta has been kidnapped by Troy, leading to the attack of the Greeks to get her back.
Review by: Emma Bayliss
It Ends with Us
Author: Colleen Hoover
Pages 376
Irresistibly enthralling, and impossible to put down, It Ends With Us by Colleen Hoover has been widely popular since its release in 2016. The novel, a well known participant on booktok, is realistically written and has an enticing and twisty plot.
It Ends With Us, follows a young woman, Lily Bloom, as she navigated life after college in Boston. What she didn't expect was for ghosts from her past to start showing up and the relationship she built with her neurosurgeon boyfriend to start plummeting.
Review by: Emma Bayliss
Leave a Comment