Senior Graduation Celebrated on Instagram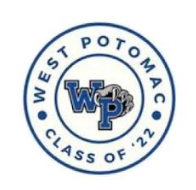 To celebrate the future of West Po seniors, Ali Pritsios, Emily Fricka, and Eleanor Pennington, took charge of running the 2022 West Potomac Senior Instagram page (@wpseniors22). It's a student-run page, not official. The three seniors post students' matriculation plans, and have been posting consistently since the end of 2021.
"We were so excited to see where everyone went and thought that since we love making social media posts, the job was perfect for us," Pritsios said.
To be included in the announcement, graduating seniors fill out a google form, which was created by those seniors, and attach a photo, name, and their favorite memory from West Potomac. Those who have finalized their major, can also post the major they will be studying. The three seniors use a Canva page to organize the post and have created templates for schools which allows them to post more efficiently.
Many other students in Fairfax county have also decided to take charge in creating their schools own senior grad page. Schools like Wakefield, Thomas Edison, Hayfield, and Mount Vernon High school all have their own student run Instagram. "Our favorite was West Potomac's," says Pritsios. Over the previous years, past West Potomac seniors have also run the graduation page.
More than 140 West Po seniors have now participated in submitting the google form, and the page has over 600 followers on Instagram.
The last time we checked the account, out of the seniors who have decided to share their information on Instagram, 73 students will be attending universities in Virginia. Others will be scattered across the nation at schools like USC, San Diego State, UT-Austin, University of Michigan, University of North Dakota, and Yale.
Leave a Comment