Junior Liz Brodie's Love for Shakespeare Leads to Folger Library Fellowship
Brodie got the unique opportunity to delve into Shakespeare's work in a way your average enthusiast wouldn't be able to.
A typical Monday afternoon for Junior Liz Brodie between September and December started with her signing out of school at 2:20pm.  From school, her mother drove her to Huntington Metro Station, where Brodie would hop on the Yellow Line. Then, she would switch trains from L'Enfant Plaza towards Capital South. Once off, she walked about a half mile to the Folger Library, where she took her love for Shakespeare one step further to make it to the Lily McKee High School Fellowship Program at Folger's Theater in Washington, D.C.
The intensive fall course, which runs from September to December, includes incredibly rigorous analyzing and interpreting of Shakespeare's works, including "As You Like It," "Pericles", and "Hamlet."
Each week, the students were lectured by different individuals, and received an assignment regarding the lecture. The group consisted of mostly juniors and seniors, all from the D.C. area., who, "will have the opportunity to explore Shakespeare's plays as scholars, actors, and audience members," reads the theater's website.
Brodie learned of the program through 2015 West Potomac graduate and former member of the Fellowship Program Kelly O'Meara, who spread the word about it through Twitter. Her teacher sponsor was Shakespeare Studies teacher Colin O'Grady, who was a helpful guide during the tedious analytical process. The students of the program were only given a week and a half to read each play.
"If I wasn't reading and analyzing the plays or completing lecture assignments I was always doing homework or running to American Idiot [for West Potomac's Beyond the Page theater] rehearsal. I was never home!" says Brodie.
Finishing the program provided many benefits, such as being able to apply for a reader's card at the theater, which provides access to their rare materials including original Shakespeare books, and meeting with renowned people in the Shakespeare and Folger world. However, the card takes a backseat to the lifelong skills she developed.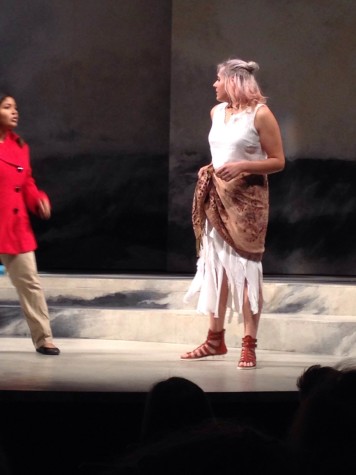 "Now I have such a good handle on how to understand language and analyze it and I saw how Shakespeare's tactics are used in even the most unusual places, which demonstrates to me how important the humanities are," she says. "History repeats itself so it's helpful to understand the culture then and how it affects us now."
"I'd like to continue to research Shakespeare's more fantastical plays and continue to compare them to modern fantasy media," said Brodie. "We got to enter the Folger's conservation lab and that was incredibly interesting. I think I would like to look more into conservatory work with rare materials".
Visiting the conservation lab was her favorite part. She even had the opportunity to see folios, books published with all of Shakespeare's plays that were known to the public when they were compiled.
For her final project, Brodie compared Pericles to Game of Thrones. The project took two weeks to complete. Included is an intricate map of Westeros, the setting of Game of Thrones, in which Brodie applied Shakespeare's geography and characters to where she felt belonged in the Game of Thrones setting. She compared the similar character tropes and literary themes between the two literary works were, as well as the  the common trends of strong female characters, acceptance of disbelief by the audience, and, "of course, perfectly timed pirates." For their final showcase, the group performed scenes from the three plays. Brodie was in Pericles.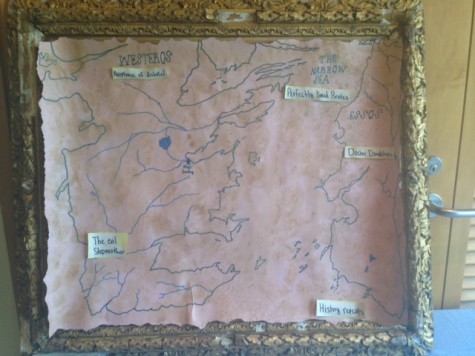 If you would like to see Brodie in action, she will soon be starring in West Potomac's Beyond the Page Theatre Company's upcoming play The Outsiders in January.
For those you would like to participate in the program, Brodie suggests that you keep yourself on a strict schedule.
"Keep on top of your schoolwork, try and get ahead whenever you can, always have backup plans for transportation, homework time, and time to breathe, really."
Leave a Comment