Senior Jackson Kosmacki Takes Love for Films One Step Further
When senior Jackson Kosmacki isn't at baseball practice or doing his homework, he can be found writing, filming, and editing short films, which he produces frequently. He is currently enrolled in the West Potomac Academy Class for T.V. Production taught by Nancy Mantelli, where he is given the opportunity to pursue his passion everyday.
"I've been making movies since about the age of seven. In third grade, I made a movie with a friend of mine about this band we had formed, and I really enjoyed that so I just kept on going," says Kosmacki.
He is currently in the midst of producing his newest, full-length movie Old Town, which he started writing in January of 2015.
"I saw Manhattan in December [of 2014] and that inspired me to make a movie in Old Town with an atmosphere that captures the spirit of the city in a way," he says. Manhattan was a film directed by Woody Allen in 1979, and in Kosmacki's words is, "…an ode to the absolute knockout of a city that Allen loves so much."
Kosmacki completed the script for Old Town in July, started shooting in December, wrapped up shooting in April, and has been editing since February
"The main struggle of the story is an identity crisis, which I think is a concept that isn't represented very well in media– specifically in movies–very often. Sometimes it'll be a joke or some minor conflict for a supporting character, so I wanted to make something more authentic to what this struggle of identity is really about and how it actually manifests in someone," says Kosmacki about the main plot of the movie.
With the help of his friends, he was able to replicate exactly how he had imagined the film to be.
"Some very key people include Evan Jenkins [an alum of the TV Production class who is now a freshman at Syracuse University], our director of photography, who did an amazing job with the visual aspect of the movie. A lot of how the image looks was influenced by him," he says.
The rest of the actors and crew were juniors and seniors of West Potomac, including seniors Pablo O'Connell, Devin Conway, and Alex White, as well as junior Jessie Benitez.
"Pablo O'Connell has also been a pretty key player, both acting and contributing to the film. A lot of actors stepped up in a very important way to keep the project moving. Devin Conway was on set almost every day to lend a huge hand in keeping things going, working as a grip and camera operator fairly frequently." O'Connell also contributed heavily with the music for the film.
The trailer to Kosmacki's film can be found on Vimeo, and he hopes to premiere the movie in May.
"The plan for showing the movie begins at West Potomac in May, then gauge how we are going to distribute it from there. Take it to a festival, maybe put it online in the summer; there are still some variables that need to be worked out," he concludes.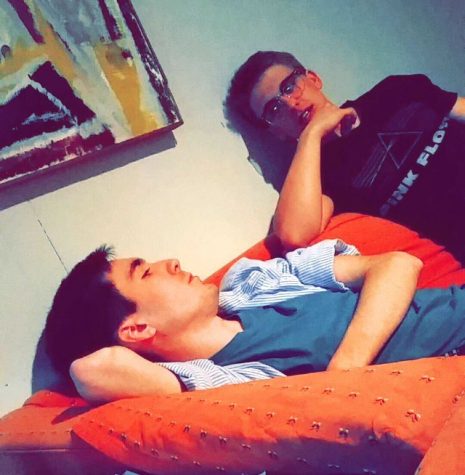 Leave a Comment