Senior Rose Guglielmo Expresses Passion of Healthcare Through Volunteer Work
Senior Rose Guglielmo is using her SHOUT (Students Helping Others United Together) project to get the most hands-on experience for her future career in the medical field.
For her project, Guglielmo will be volunteering at the Inova Alexandria Hospital, where she has been working since the beginning of her junior year. Guglielmo helps  deliver meals and flowers to patients, fold hospital gowns and assist other nurses.
"My SHOUT project gives me the opportunity to work in a hospital and interact with medical professionals," she said."I'm really thankful for being able to observe what it's like to be a healthcare provider, and that's helped me to direct my focus in school."
Guglielmo attended a National Student Leadership Conference summer camp at the University of Maryland between her sophomore and junior year, and she said that the camp is what really ignited her attraction to the medical field.
"We went to the anatomy lab during my summer camp. Med School students showed us the cadavers they were dissecting, ad we observed organs from each of the main body systems. It was really cool, and I got to hold lungs, a heart, bones and all sorts of stuff. Another really cool thing we got to do there was practice sutures [surgical stitches] on pig's feet," said Guglielmo.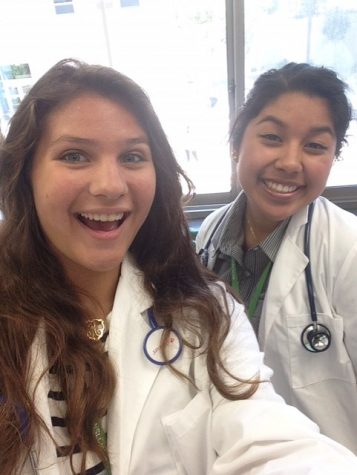 She also had the opportunity to talk to medical professionals, med-school students and public health officials.
Guglielmo will be attending the College of William and Mary in the fall, and is excited to further her education in subjects other than those to become a doctor.
"I chose William and Mary because of its strong undergraduate liberal arts curriculum," she said."William and Mary has great science programs, but I'm also glad I'll get to explore other areas of interest like history!"
Leave a Comment