West Potomac Dance Team Hits the National Stage
This past weekend, our very own West Potomac Dance Team attended the UDA Nationals competition in Orlando, Florida. This year the team had 20 girls and they competed in the Large Varsity category for pom and jazz. The dances were choreographed by coaches Gennifer Difilippo and Stacey Wallach. 
After competing Friday, the team went to the Walt Disney World theme parks and attended a UDA dance party at Hollywood Studios on Sunday night. Eden Flora, sophomore dancer, said her favorite part of the trip was "[she] loved being in rooms with all the girls and getting to hangout with everyone." Anna Sowers, junior dancer, said her favorite part was "getting the experience to perform on the National stage again." 
The team was able to fund the trip by doing multiple fundraisers, getting sponsors from local and corporate businesses, and with the help from the parent board. The dance team is not funded by the school and is categorized as a "club activity" on the West Potomac Athletics website.
Prior to Nationals, the dance team attended a competition at Brooke Point High School in Stafford County, Virginia. Both Varsity and JV teams brought home trophies in all of their dance categories. Varsity placed 2nd in jazz and 3rd in pom, while JV placed first in both hip hop and jazz. Later this month, both teams will be competing at the "Reach the Beach" competition in Ocean City, Maryland from the 24th through the 26th.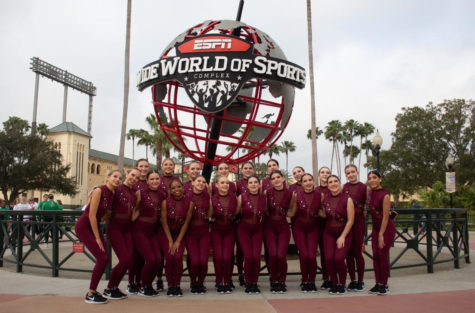 The team prepares for competitions by practicing multiple times a week and performing for audiences at the home basketball games. Though the hours are long, it pays off once the team hits the National stage. "[Saturday practices] were like six hours long for the past month," Flora commented.
 Although the team did not bring home a trophy from their trip to Nationals, their hard work does not go unnoticed. "[I'm] so grateful for all the coaches and can't wait to see where the team goes from here," Amari Lewis-Hawkins, a junior dancer, said.
WPDT Pom Performance
WPDT Jazz Performance
Leave a Comment