Wednesday, January 6, 2021: Students and Teachers Recount the Day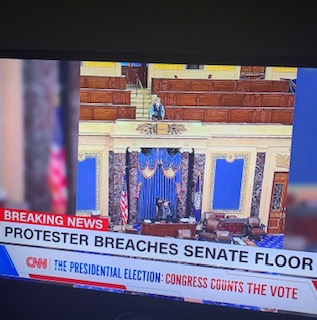 After the events of Wednesday's insurrection by the attendees of the pro-Trump rally on the Capitol, students still remain shocked. At around 2:25 p.m., rioters broke their way into the Capitol building with Congress in session debating the Presidential election votes. The Capitol then went into lockdown while rioters looted and attacked the building, with some classes watching all of this live.
Senior Lux Ray was in Combating Intolerance 8th period, where half way through class Mr. Baldwin put on the livestream of the news. "Watching the newsfeed of the Capitol live in class was unreal. I was in shock and feared for the state of our country and democracy," she said. 
Senior Kylie Rapp was in Comparative Government while the incited riots escalated, where Ms. Cohen and the class watched as well. "We started the class listening to Mitch McConnell's speech in the Senate, which was already surprising, but when we started watching what was going on outside the Capitol it was truly shocking. I was so distraught with the utter disrespect and hypocrisy of the rioters outside the Capitol. I saw them carrying blue lives matter flags while clashing with the police. Our class was discussing how scary the event was in the chat and Ms. Cohen was distraught watching it," she said.
Some didn't know about what was going on until after the school day. English teacher Mr. Holloway didn't know about the attack until after his 8th period AVID class had ended. "I am saddened by the events at our Capitol building on Wednesday. Disinformation and misinformation are in abundance and it is my job as an English teacher to help support the critical and creative thinking of my students. It is my job to make sure that my students can apply critical thinking to the language and words they read, see, hear – consume," he explains. 
History teacher Mr. Baldwin put on the live news coverage in his 8th period Combating Intolerance class as it unfolded. "What we witnessed unfold in real-time was shameful and reprehensible. It was also, sadly, not a surprise, because we have been discussing misinformation, disinformation, and its impacts on the political process in my classes. Yesterday was a clear example of those impacts," he said. 
Leave a Comment
About the Contributor
Ruth Dean, Writer
Ruth Dean is a senior and co-editor-in-chief for The Wire this year, her third year in a row in this position. She is in her 4th year of Journalism and...