Where's My Love?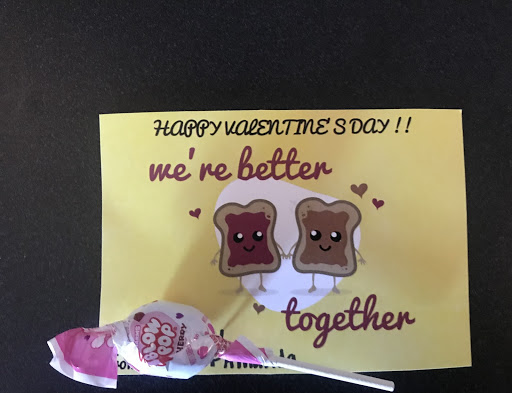 Hearts, cherubs, and the "L"-Word. February 14th, the day many across the world staple as Valentines Day. About 16 countries celebrate the Day of Lovers, but in the United States, it's safe to say we take it a bit more seriously. A study done by The Motley Fool found that the average American spends approximately $135.57 each year on the holiday, and the U.S.' collective total amounted to $8 billion on gifts. That total includes flowers, chocolates, greeting cards, stuffed teddy bears,and even 20% of Americans bought gifts for their dogs (2018). But such big spending begs the question; should we expect our significant others to drop their latest paycheck on us for gifts? Here at West Potomac, many spoke on what they thought about Valentine's gifting and what they expect of their significant other.
Vickeya Jones, junior, says that if she had a boyfriend, she'd want a big teddy bear, chocolates, and a hug. "Not those nasty little heart-box chocolates, but Hershey's Extra Large, bigger than King Size. I also don't want anything too expensive so that I don't seem like a gold digger, or someone picky. Even better, a D.I.Y. gift, something that truly comes from the heart." She then went on to say that anything memorable would work. "A gift that you can both appreciate. Like the first time you see a certain bird you both like, and then they buy you the bird later on to remind you of the memory."
Aiden Gallishaw, Junior, also had a few words to say about Valentine's Day. "It's a wonderful opportunity to express your feelings towards another person. [Getting a gift] really doesn't matter. Anything that you can tell came from the heart works for me and I'll take it." But this begs the question; is it fair for those not in relationships to be forgotten and looked over? Should you have to wait until February to appreciate your loved one?
Yeni Medrano, junior, says, "It's stupid. I feel like only people in relationships get appreciated. It's too exclusive towards couples. But I do plan on going out that night. I expect nothing from him. I don't really want anything. Just to be able to spend time with him is enough. Being able to hang out with him would be best."
Another V-Day tradition are "Candy Grams", where a secret admirer would send a piece of candy to somebody in order to show their appreciation. But many people don't receive any Candy Grams, making them feel left out or less than others.
But nobody likes to feel left out. 
Leave a Comment