Finding My Free Spirit
The Al Neuharth Free Spirit and Journalism Conference along with the lifelong friends I've met have changed my love of journalism forever.
From June 18-23, I had the honor of representing the state of Virginia among this year's class of 51 Free Spirit scholars at the Al Neuharth Free Spirit and Journalism Conference, an honor that I was in complete shock of receiving—there were plenty of happy tears, shaking and an unbreakable smile to prove it.
View more photos from the conference at the bottom or [here] / View a Storify of the week [here]
However, from the moment I received my acceptance email to the first time I met my fellow Free Spirit scholars in the Holiday Inn conference room, I knew my Free Spirit experience would be slightly different from some of theirs.
As a Northern Virginia native, born and raised in Alexandria, the city of D.C. is many things to me—it's a place to look at the Smithsonian museums with my friends on weekends, it's where I've had a field trip every year since kindergarten, it's less than ten stops away on the metro from Huntington Station on the yellow line.
For most Alexandrians, a stroll down Duke Street and sitting by the waterfront as the sun sets on the Potomac River is a must-do on pleasant summer evenings. Visiting Old Town is arguably the most fun you can have in Alexandria, as tourists and locals alike trek the brick pathways of our beloved historic district.   
However, on the night of June 22, I took an incredibly bittersweet walk down to the waterfront. Luggage in hand, and new friends on either side of me, we all made our way to the Cherry Blossom, the intricate yellow and white riverboat that makes its home on the docks by Chart House.
My new friends were 50 of the best and brightest student journalists from every state as well as the District of Columbia. We were celebrating our commencement. Only two hours beforehand, we had all officially become alumni of the 2016 Al Neuharth Free Spirit and Journalism Conference.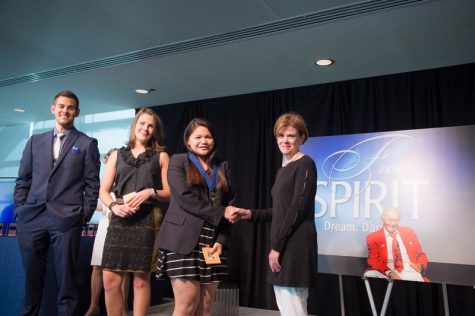 The conference was funded and hosted by the Newseum and the Freedom Forum, only two of many achievements of USA Today founder Al Neuharth. This year's Free Spirit class was picked from hundreds of applicants around the country, and we were taken on trips all around D.C., where we learned from professionals in all different parts of the industry.
We were taught and inspired to defend the freedoms of the First Amendment and widened our skillset as journalists in a rapidly changing industry. But most importantly, we were reminded why, as aspiring professional journalists of all kinds, a free press is an integral part of our democracy.
We had the opportunity to hear the humble beginnings of Pulitzer Prize winning journalist Sara Ganim, participate in a moot court presided by U.S. District Judge Royce C. Lamberth, observe the intricacies of the USA TODAY newsroom, meet Chuck Todd after a taping of Meet the Press and much, much more.
My peers and I spent the week soaking in everything D.C. has to offer. While D.C. is a familiar sight to me, in that week I was able to see it in a whole new light.
When you're driving out of West Potomac down to Belle Haven, at the right time, in the right season when the trees aren't covering it—you can see some of the city right there from the backseat of your car at the right angle, when you're going down on the hill. From there you can see the Capitol, and from certain points of Route 1 you can even see the Washington Monument.
This is why perspective was such a central theme to my experience at Free Spirit. While our nation's capital is a mere 25 minute drive from my house, many of my new friends had to take as long as two flights and a grueling 2 hour long Uber ride from BWI to get here (like my roommate and Washington state representative Stephi Smith, who I miss a lot). Some of them hail from small towns in states where I, embarrassingly but admittedly, could not name given the mere shape of (it's the square ones that mess me up).
While being a tourist in a city I grew up knowing well was good fun, the best part for me was seeing a different kind of awe and excitement in the faces of those who had never step foot in the District beforehand.
But perspective works in many ways in this case. Any Northern Virginian can say they hit traffic on I-66 getting to Tyson's Corner, but only I can claim that our bus, en route to USA TODAY, broke down on the road, and in order to kill time we had a singing competition, complete with Beyonce mashups and Disney tunes.
Only I could see the spark in the eyes of my peers when they saw the local papers they worked for on display at the Newseum's daily front pages exhibit. Being able to have these moments and share them with some new friends was a definite highlight of the week.
While few can relate to cramming into elevators on a daily basis, discussing censorship issues over continental breakfast, or the feeling of relief and victory when your team in Newsmania, a fast paced news trivia game, makes a comeback at the end of round 10. Many people have watched sports journalist Chris Berman on ESPN, but only I can say we had the honor of having lunch with him, and attending a dinner ceremony in honor of his Media Excellence award (additionally, we are the only group of scholars to have the honor of having such a person actually be a part of our graduating class).
In late June, people from all over the country tuned in on TV and on social media to hear about the Democratic sit-in in the House chamber for gun control. However, I can say I visited the House and Senate chamber, and their press galleries, a mere two hours beforehand.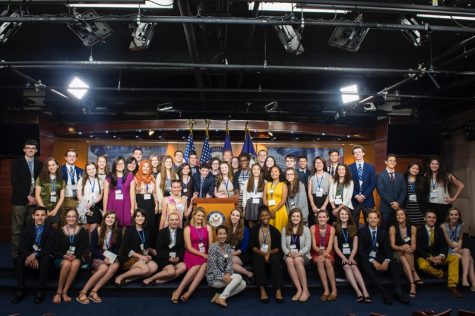 I can also proudly say that when news broke of the sit-in, I was having lunch with Freedom Riders Ernest Patton and Joan Trumpauer Mulholland, who were praising Rep. John Lewis's efforts in the Civil Rights movement minutes before he and other House democrats were being broadcasted from the Newseum's huge LED screen after the C-SPAN cameras were shut off.
While the Al Neuharth Free Spirit and Journalism conference allowed me to see D.C. in ways I had never seen it before, even more importantly it gave me 50 new best friends to explore it with. Everything I learned, saw, and experienced wouldn't have been the same without my fellow Free Spirits by my side.
Meeting and hearing from some of the most prominent figures in journalism is by far an amazing once in a lifetime experience, but being able to share those moments with other student journalists is what I'll remember the most.
While I had created group chat to allow all of us to get to know each other before the moment arrived, nothing compared seeing them in person for the first time, and being able to laugh with them in good times and cry and hug them when it was all over, while belting "Don't Stop Believin''" at the top of our lungs. As I said on our last night as a Free Spirit family, we're not just free spirits, we're kindred spirits.
I will be forever thankful to everyone at the Newseum for allowing us to learn and explore in their exhibits and learn in the Knight Conference Center every day. I am thankful to all of our wonderful presenters for taking the time to inspire us young journalists. I'm thankful for our dear chaperones, Alix Cialone and Kevin Mulumba from the CloseUp Foundation, for taking us around the city. I am thankful for the Neuharth family's dedication to continue Al's legacy and his passion for this industry.
But most importantly, I'm thankful for Al Neuharth for starting this program 17 years ago to inspire the next generation of journalists. Because of him and this program, now more than ever I have faith in the future of journalism, because I see it in myself and my outstanding peers.
While I wish we all could have gotten a chance to meet him, I know as well as his family knows he would be incredibly proud of all of us. In his own words from his USA TODAY column Plain Talk, "Free spirits know how to enjoy sunrises and sunsets." While the sun set both literally and metaphorically at the end of the Free Spirit conference on the Cherry Blossom overlooking the Potomac, I knew this was only the beginning of a lifelong friendship and career path for me and my fellow Free Spirits.
If Al Neuharth could start out as a young boy from rural South Dakota to becoming one of the most respected and biggest names in journalism, I know that my Free Spirits and I can achieve anything, as long as we always "Dream, Dare, and Do."
Leave a Comment