Teacher Feature: Mrs. Kim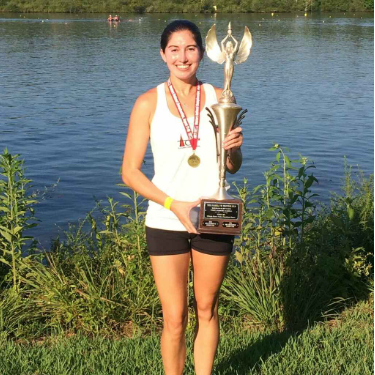 Mrs. Kelly Kim is a second year teacher here at West Potomac and has quickly become one of the favorites among students. Between befriending her students, having fun classes, and talking to anyone who needs a friend, she truly cares about her students.
Kim graduated from Barry University in Miami, after growing up in freezing cold Maine. Her major was marine biology after being coerced into it by her parents. Her college experience consisted of rowing, being consumed with work outs and races. Kim visited home every winter break, which ended up helping her in the long run, when Barry's rowing team would head north for a meet, where she'd already be acclimated to the weather.
Her major in college was first Education, but the night before classes began, she was convinced by her parents to switch. After working in a lab for a couple years and getting a Masters in Biology, she decided to become a teacher.
Kim coached Crew at TC Williams High School before West Potomac, thanks to coincidental encounters with others. "I actually coached at TC before here, and how I got into coaching up here is that I was subbing in a classroom in Alexandria City Public Schools and in the classroom next to me, … was one of the coaches for rowing at TC so he introduced me to the head coach. Then once I started coaching there I started rowing for the Masters program. Then the woman I rowed with in the Master program coached here so she asked me to start coaching here. Super weird coincidences everywhere."
When asked if given the choice of teaching another subject, she easily decided on English, "…probably something like English or literature or anything like that because I love love love reading; it's really interesting." There is always a book to be found on Kim's desk and/or cart.
Kim's favorite thing about students here at West Potomac, it was all about keeping it fun and interesting in the classroom.  "… there are so many different personalities in a classroom, at the same time it's still fun. I don't really get that mad or stressed out because I'm laughing the whole time or I at least try to make it fun. We get distracted, we go off on tangents, you learn about students that way. I know we're in Biology and that's all we should be talking about but at the same time it's fun to learn about everybody."
Keeping a classroom environment entertaining yet interesting is something that most teachers have a struggle with, but for Mrs.Kim it's typical, "… It's fun in the beginning of every class to just talk… I mean of course I love talking about Biology because I find it fascinating, but I like that connection with students at the beginning of class where it's like, okay now we're on the same page and we're ready to start learning because I want to make sure everyone's happy to be there. If I hear one of my students go 'oh I don't like that class' I always ask like, 'what do you not like about that class' and a lot of the times they say they just don't like their teacher and it's so crazy how that totally can change everyone's mind, like I hope they never stop Biology because of me."
It'd be believable to say that she succeeds in keeping a class of students happy, as many students from previous years end up visiting during classes and after school to see her, or just talk to her.
Outside of school, Mrs.Kim rows and reads, although she says that her husband and her make attempts at going out to concerts and fun activities. Kim attends many military functions due to her parents, who live down the road from West Po. At home she cooks every single night for her husband and herself, sometimes having friends and family over.
She summarized herself in three words, explaining each one. "Friendly, as most of my students say I am; patient, I think you kind of have to be when you work with freshmen; and humorous, I just love laughing. I hope others would describe me as helpful, dependable, and it sounds weird, but comforting because I think it's really important at any age for people to find you as someone they can confide in and someone they can talk to on a regular basis." She also explains further in how she hopes others to describe her.
In high school, she would have chosen to redo her study habits. "What I had discovered about myself in college I wish I had known in high school, like study habits I would redo because in high school I just felt like I was fumbling my way through everything, and I didn't really establish myself as a student and I feel like I found that in college."
As much as it sounds typical, Kim spoke of how she wants every student to succeed. "That's what's so hard for students to understand and I think I was the same as a student. These teachers will nag you and you'll complain the whole time but once you leave the class you're like, 'oh they just wanted me to do well and to be the best I can be'," she said. A week ago, she had been running with a girl in Crew who was having a hard time running, and Mrs.Kim had suggested stopping if needed, but what the girl said next inspired Kim who quoted her.
"I'm slow, but I'm never gonna stop."
The girl finished the run, and what she said stuck with Mrs.Kim, who has given some advice for students.
"That's a really good mentality to have, so if there's anything you should know is that it may take you a while but you just can't stop."
Leave a Comment
About the Contributor
Vivian Baxter, Writer
Sophomore Vivian Baxter starts her first year on West Potomac's journalism staff this year. Vivian joined the class because she was interested to find...