First Annual West Potomac Ghost Tours Tell Students of 'Spooky' Past
West Potomac's first annual Ghost Tours were held around the campus for two days during Wolverine Time.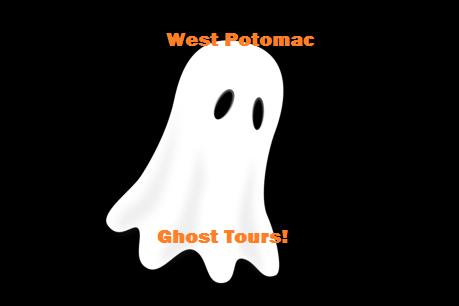 West Potomac High School's students recently had the pleasure of being regaled with spooky stories about their school on Nov. 4 and 5, during Wolverine Time.
Teachers Kelsey McGlynn, Mary Mathewson, George Coe and Kelly Fontana all acted as tour guides for the two sets of tours, with other teachers providing their support and helping with its organization. Any and all students were welcome to join, as teachers led their groups around campus, providing a range of interesting tales on the history of our school.
English teacher McGlynn was the creator behind the Ghost Tours. This is West Potomac's first Ghost Tour, and it's hoped that there will be many more to come in future years, with McGlynn as the driving force behind them.
"The idea began when McGlynn brought up the fact that we are the only high school in the county with a grave in front of it," explains English department head Mathewson, "it just took off from there, with McGlynn doing the research and writing behind it."
The Ghost Tours were created as an attempt to pull together the local community over the school's history. Students and teachers alike would be able to learn facts they may not have previously known about, and have it presented to them in a fun and interactive way.
"I really liked the tour and I really like history so this was fun for me," says junior Charlotte Shannon. "I didn't find the tour scary as a whole, but the engineering room was really creepy."
Students who went on the tour enjoyed it, whether they found it silly or scary, but a recurring question kept popping up. Were the stories true? None of the students could tell how much of the story was actually the truth, versus an embellishment added for sake of a good story.
To partially answer those students questions, everything is true, on a factual basis. Springbank actually was a stop on the Underground Railroad, and many original Groveton students did work as bus drivers and custodial workers. But an aura of mystery must be left around the stories, if students want to see how far the truth extends they must do the research for themselves.
Mathewson hopes these Ghost Stories will be continued for years to come, and hopefully they'll get more attention as the tours become more established. So for any students who were upset about missing this year's Ghost Tours, there will be another round next year. If you're interested in history, our school, or just having a nice time, the team behind the Ghost Tours would love to see you.
Leave a Comment