Data Reveals West Po Among Top 10 FCPS High Schools with Lowest COVID-19 Student Case Rates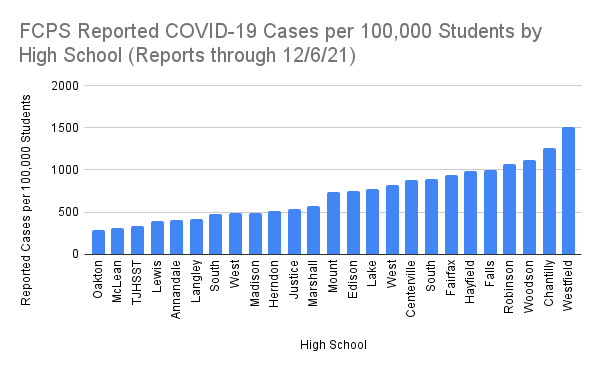 COVID-19 data through December 6th shows West Po has a lower Covid case rate than about two-thirds of Fairfax County Public Schools high schools, according to FCPS's Covid Dashboard data. West Po ranks 8th lowest out of FCPS's 25 high and secondary schools in terms of cases per 100,000 students.
As winter break approaches, the data shows West Po has just 15 reported cases through the first week of December. Of those cases, 2 have been staff members and 13 have been students. West Po's reported student case rate is 490 cases per 100,000 students, which is lower than 68% of FCPS high schools. Westfield high school has the highest student case rate out of FCPS high schools with 1,515 cases per 100,000 students, and Oakton high school has the lowest student case rate with 291 cases per 100,000 students. 
Senior Nya Bradshaw is happy to hear about the low rates of Covid at West Po, saying, "That's good that we're one of the lowest in the county … Hopefully we continue to stay safe."
FCPS, including West Po, has implemented mitigation strategies to reduce Covid spread. A school-wide mask mandate has been in place since the start of the school year. Additionally, FCPS teachers and any student participating in activities requiring a physical are required to receive a COVID-19 vaccine or face routine testing. 
West Po principal Ms. Millard highlighted the success of these measures thus far in a morning announcement today, saying, "You guys have been doing a great job overall. I have been very proud of everyone, staff and students included."
"
West Po's reported student case rate is 490 cases per 100,000 students, which is lower than 68% of FCPS high schools."
Bradshaw shared Ms. Millard's sentiment, explaining, "I've seen the majority of students here have been wearing their mask and been mindful of spreading Covid, washing their hands."
While West Po's mitigation efforts have prevented any major outbreaks of the virus at this point in the school year, winter break is approaching, and with it comes holiday travel and added social interactions for students and staff. Combined with increasing COVID-19 cases over the past week and the discovery of the new Omicron variant, these prevention measures will be tested in the new year.
"I want to remind all of you that our only strong way of supporting one another against Covid is to keep our masks on in the building, wearing them properly, over nose and over mouth," Ms. Millard stressed. "I want to remind you that we are in a time now where it [Covid cases] is upticking and we do not want to find ourselves in a situation where multiple students and multiple staff have to be out due to a Covid spread."
Leave a Comment
About the Contributor
Ethan Brodie, Co-Editor-in-Chief
Co-Editor-in-Chief Ethan Brodie is a senior at West Po in his third year of journalism. He enjoys traveling and learning about new cultures, writing, and...